Get to Know: Jacob Bryant who strikes an emotional chord with "Pour Whiskey On My Grave"
3/22/2018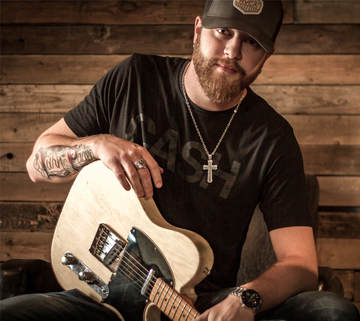 Credit: Tyler GayGrowing up in the mountains of Georgia, Jacob Bryant ventured into music via his family's Bluegrass band which led to him picking up the guitar at age eight and later, playing in church, where he served as leader of the youth group. After graduating from high school, he continued to hone his craft, but a series of jarring events led him down a darker path. But it was the grief surrounding those events that fueled his songwriting, pushing him to dive into music and record incredibly personal anthems including, "Sometimes I Pray," "Save My Soul," "This Side of Sober," and "Up In Flames."After five EP's Bryant is on track to release his first full-length album later this year. The second single from the project, "Pour Whiskey On My Grave," is an emotional song close to Bryant's heart that is connecting with listeners far and wide, garnering over 5.5 million views for its accompanying video. In advance of the album's upcoming release, Bryant kindly took the time to speak about his journey, the story behind the song, working with Jesse Triplett, and more.You were involved with music from a young age. Did you always know that it was something you wanted to pursue professionally?Yes and no. I've always played music and wanted it to be a part of my life, but I didn't really want to pursue it as a full-time career until my Mom passed in 2010. My mom loved music, it was all she ever cared about, and her passing put fuel under my ass to go out and try to make it happen. My mother would have wanted me to continue with my music; and when she passed, I wanted to make it happen for her. After she passed [Bryant's mother died suddenly on New Year's Day 2010], you went down a bit of a dark path. Was there a specific moment when you realized you were going to turn things around? There were about four years where I don't remember a lot of anything, but I think anyone can understand that happening after losing someone so close to you so unexpectedly. It was tough to deal with and admittedly, I did dumb stuff for a little while. As far as addiction goes, one day I woke up and walked to the bathroom to start my day just like I did every morning, but when I saw myself that morning, I realized I was not happy and I didn't want to be like this anymore. I knew I needed to slow everything down and get myself together.And that Bryant did, moving forward with music and releasing four EPs including 2016's, UP IN SMOKE, which debuted at # 7 on iTunes Country Chart and saw the video for "A Woman's Touch" debut at # 1 on CMT Music 12 Pack Countdown – and stayed in the Top 5 for 17 weeks. Bryant's latest single, "Pour Whiskey On My Grave," is making a splash and it's accompanying video just hit 5.5 MILLION views and 162,000 FB shares. Shot entirely in black and white near his hometown of Jasper, Georgia, the piece is an arresting look at death that features a bad-ass preacher, loose women, and drinking buddies - all portrayed by Bryant's real-life friends and family members in all their outlaw glory.
"Pour Whiskey On My Grave," has gotten an incredible amount of attention. How did you come to record the song and what do you think is making people connect with it? I was doing a writer's round in Nashville with a songwriter I had never met before, Jami Grooms. He was playing the song and at the first line I was captivated because it reminded me of my mom - I always go to her grave, pour a beer out for her, drink one myself and visit with her. I mouthed over to my manager that I wanted to cut it, and here we are. I think it's just one of those songs that anyone who has lost someone can relate to. We've heard from a lot of military who are latching onto the song saying it reminds them of the brothers they lost. It's a song that makes you want to celebrate life and I'm glad people are digging it.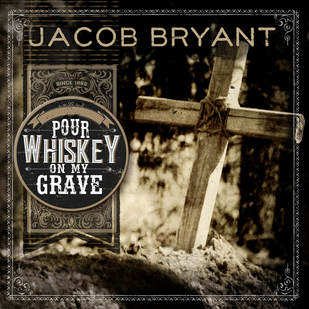 People are absolutely digging it!Jesse Triplett of Collective Soul, produced the single and your upcoming record, Practice What I Preach. How did the two of you connect?We connected through a mutual friend, met, had some drinks, and the rest is history. Jesse was really easy to work with. He gets what you're trying to do and doesn't try to turn you into something you're not. But he also has a way of pushing you, especially vocally, in places I normally wouldn't have thought to go. He brought a lot of things to light and helped me capture what I wanted to with this album. I got lucky working with him.The title of the album is going to be taken from another song you wrote with Jami, "Practice What I Preach." What is the significance of that?Initially, Jami and I were writing a song about my Uncle Diamond who is what people talk about when they think of old mountain men who make their own moonshine and grow their own weed (laughing). But the song grew to being about what a country guy really needs - a Bible, a gun, and whiskey. That's who I am and who I have always been.You know, at one point in my life, I was a worship leader, but there were people in my church who couldn't believe I could go out and drink a beer on Saturday night and come in on Sunday and preach. And the thing about it was that there was so much hypocritical bull crap because a lot of those people were doing the same thing. So I wrote it like it is. I'm a Christian guy who loves my Bible, my guns, and my whiskey. I practice what I preach. I believe that if everyone minded their own business and stopped looking over fences and worrying about what's offensive we'd all be better off. It's simple - love everyone and quit worrying about the other stuff.Amen. I'm right there with you on that.Switching gears, you have supported so many different artists and will be hitting the road playing with everyone from Brantley Gilbert to Cody Johsnon through the summer.
I've been playing shows with Cody for a while but it's nice to be able to pick up more dates with him. Brantley I knew when he was starting out, but then he blew up and we lost touch. Now, we're at a place where our paths are crossing again and we're able to do some shows with him, which I am excited about. In addition to getting the record out, are there any professional goals you have set for yourself for this year?I would say for this year the major goal is to start playing bigger shows and festivals since we've been on the smaller venue and bar circuit for the past couple of years. I'm excited get out there, bring the live show to more people and grow the fan base. I'm blessed that I get to hold a guitar and yell at people for a living (laughing).Finally, I always like to know, when you're out there on the road, what do you like to listen to?I don't listen to a lot of modern country, that's just not my thing. I love heavy hitting southern rock and traditional country like Travis Tritt, Brent Cobb, Sturgill Simpson, and Chris Stapleton.Website/Facebook/Twitter/Purchase